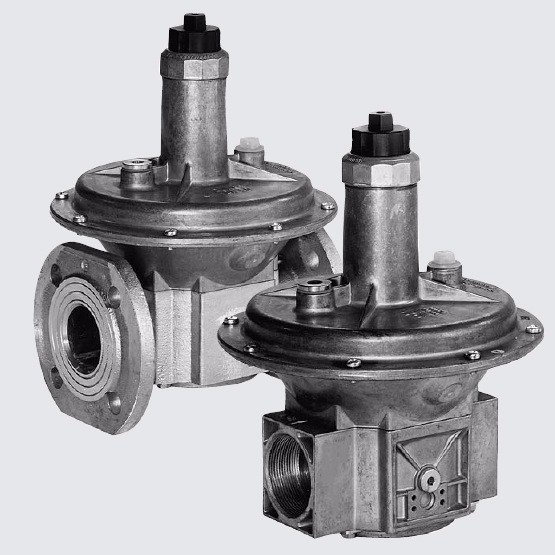 FRS series gas pressure regulator
Brand: DUNGS (Dungs)
Origin: Germany
product description
The DUNGS Model FRS Pressure Regulator is a pressure regulator with an adjustable rating spring. This pressure regulator meets the requirements of EN88 and DIN3380.
Input pressure up to 500mbar
Large circulation
The outlet pressure of the regulator can be adjusted stably, accurately and sensitively
Preloaded balanced diaphragm
safety diaphragm
Complete internal pulse for regulator outlet pressure, external pulse connection optional on both sides
Threaded connection Rp3/8 - Rp2
Flange connection DN20 - DN150
Gas pressure regulators are suitable for gas burners and gas appliances.
It does not contain ferrous metals and is suitable for gases with H2S content up to 0.1% by volume.
Suitable for gas series 1, 2, 3 and other neutral gaseous media.
常用型号表
型号

连接

Rp

最大工作压力m

bar

FRS503

Rp3/8

500

FRS505

Rp1/2

500

FRS507

Rp3/4

500

FRS510

Rp1

500

FRS515

Rp1-1/2

500

FRS520

Rp2

500

FRS5040

DN40

500

FRS5050

DN50

500

FRS5065

DN65

500

FRS5080

DN80

500

FRS5100

DN100

500

FRS5125

DN125

500

FRS5150

DN150

500
Technical Parameters
Maximum working pressure up to 500mbar
Pressure regulators Pressure regulators meet the requirements of EN 88 Class A Div 2, DIN 3380, RG 10
Input pressure range +5mbar and P2+2.5mbar to 500mbar
Pressure class PN 1
Output pressure range 2.5mbar to 200mbar, depending on adjustable rating spring
Ambient temperature -15ºC to +70ºC
Test connection point G1/4 to DIN ISO 228, on both sides of the outlet
Pulse connection internally present at the outlet, optionally externally on both sides of the housing
Exhaust pipe Exhaust pipe is only required in special cases. Safety diaphragm is already fitted. Connection G1/4 ISO 228 to Rp1, from PP1-1/2, DN40: G1/2 ISO228
Material Housing Aluminum, Steel Sealed NBR
Mounting position Regulator cover in vertical or horizontal position